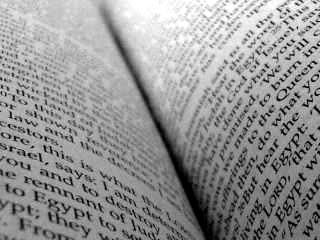 "I have hidden your word in my heart that I might not sin against you." The famous eleventh verse of Psalm 119 that most of us already know. It took me reading this verse to figure out why things were so much different back in the Bible days. How did David become a "Man after God's own heart"? How did Mary live such a life to have gained favor with God? I just couldn't wrap my head around how these people lived such clean lives. Then it hit me. These people lived lives like this because God's Word was truly in there hearts. It was a part of who they were. It wasn't something they were forced to memorize for a test, it was transcribed on their hearts. So how do we go about living our lives, trying to get through the constant mess that is bombarded at us in the media every day? Well, what would Jesus do? (score one for the awesome bracelets). He shows us a perfect example of how he beat the temptation in Matthew 4:1-11. He quoted Scripture. God has given us every tool we need to withstand temptation, we just need to read the instruction manual.
1. John 3:30 He must become greater, I must become less.
2. Jeremiah 29:11 For I know the plans I have for you," declares the LORD, "plans to prosper you and not to harm you, plans to give you hope and a future.
3. Romans 8:28 And we know that in all things God works for the good of those who love him, who have been called according to his purpose.
4. Philippians 4:13 I can do everything through him who gives me strength.
5. Proverbs 3:5-6 Trust in the LORD with all your heart and lean not on your own understanding; in all your ways acknowledge him, .and he will make your paths straight.
6. Matthew 28:19 Therefore go and make disciples of all nations, baptizing them in the name of the Father and of the Son and of the Holy Spirit
7. Romans 12:2 Do not conform any longer to the pattern of this world, but be transformed by the renewing of your mind. Then you will be able to test and approve what God's will is—his good, pleasing and perfect will.
8. Philippians 4:6 Do not be anxious about anything, but in everything, by prayer and petition, with thanksgiving, present your requests to God.
9. Ephesians 2:8 For it is by grace you have been saved, through faith—and this not from yourselves, it is the gift of God
10. Galatians 5:22 But the fruit of the Spirit is love, joy, peace, patience, kindness, goodness, faithfulness
11. Matthew 5:16 In the same way, let your light shine before men, that they may see your good deeds and praise your Father in heaven.
12. Matthew 22:37 Jesus replied: " 'Love the Lord your God with all your heart and with all your soul and with all your mind.'
13. Colosians 3:23 Whatever you do, work at it with all your heart, as working for the Lord, not for men
14. Joshua 1:8 Do not let this Book of the Law depart from your mouth; meditate on it day and night, so that you may be careful to do everything written in it. Then you will be prosperous and successful.
15. Joshua 1:9 Have I not commanded you? Be strong and courageous. Do not be terrified; do not be discouraged, for the LORD your God will be with you wherever you go.
16. Acts 4:12 Salvation is found in no one else, for there is no other name under heaven given to men by which we must be saved.
17. Hebrews 4:16 Let us then approach the throne of grace with confidence, so that we may receive mercy and find grace to help us in our time of need.
18. Phiippiansl 1:6 Being confident of this, that he who began a good work in you will carry it on to completion until the day of Christ Jesus.
19. Hebrews 10:25 Let us not give up meeting together, as some are in the habit of doing, but let us encourage one another—and all the more as you see the Day approaching.
20. Romans 8:39 Neither height nor depth, nor anything else in all creation, will be able to separate us from the love of God that is in Christ Jesus our Lord.
21. Hebrews 4:12 For I will forgive their wickedness and will remember their sins no more.
22. 1 Corinthians 6:19 Do you not know that your body is a temple of the Holy Spirit, who is in you, whom you have received from God? You are not your own;
23. John 1:1 In the beginning was the Word, and the Word was with God, and the Word was God.
24. Hebrews 12:1 Therefore, since we are surrounded by such a great cloud of witnesses, let us throw off everything that hinders and the sin that so easily entangles, and let us run with perseverance the race marked out for us.
25. Colossians 3:12 Therefore, as God's chosen people, holy and dearly loved, clothe yourselves with compassion, kindness, humility, gentleness and patience.
26. Acts 2:38 Peter replied, "Repent and be baptized, every one of you, in the name of Jesus Christ for the forgiveness of your sins. And you will receive the gift of the Holy Spirit.
27. James 1:2 Consider it pure joy, my brothers, whenever you face trials of many kinds,
28. John 5:24 I tell you the truth, whoever hears my word and believes him who sent me has eternal life and will not be condemned; he has crossed over from death to life.
29. Romans 5:13 For before the law was given, sin was in the world. But sin is not taken into account when there is no law.
30. 2 Timothy 1:7 For God did not give us a spirit of timidity, but a spirit of power, of love and of self-discipline.
31. Isaiah 41:10 So do not fear, for I am with you; do not be dismayed, for I am your God. I will strengthen you and help you; I will uphold you with my righteous right hand.
32. 2 Corinthians 12:9 But he said to me, "My grace is sufficient for you, for my power is made perfect in weakness."Therefore I will boast all the more gladly about my weaknesses, so that Christ's power may rest on me.
33. 2 Corinthians 5:17 Therefore, if anyone is in Christ, he is a new creation; the old has gone, the new has come!
34. Hebrews 11:1 Now faith is being sure of what we hope for and certain of what we do not see.
35. Matthew 11:28 Come to me, all you who are weary and burdened, and I will give you rest.
36. Matthew 6:33 But seek first his kingdom and his righteousness, and all these things will be given to you as well.
37. 1 Timothy 3:16 All Scripture is God-breathed and is useful for teaching, rebuking, correcting and training in righteousness
38. Romans 6:23 For the wages of sin is death, but the gift of God is eternal life in Christ Jesus our Lord.
39. Isaiah 40:31 But those who hope in the LORD will renew their strength. They will soar on wings like eagles; they will run and not grow weary, they will walk and not be faint.
40. John 10:10 The thief comes only to steal and kill and destroy; I have come that they may have life, and have it to the full.
41. Galatians 2:20 I have been crucified with Christ and I no longer live, but Christ lives in me. The life I live in the body, I live by faith in the Son of God, who loved me and gave himself for me.
42. 1 John 1:9 If we confess our sins, he is faithful and just and will forgive us our sins and purify us from all unrighteousness.
43. Romans 3:23 For all have sinned and fall short of the glory of God
44. John 14:6 Jesus answered, "I am the way and the truth and the life. No one comes to the Father except through me.
45. Romans 12:1 Therefore, I urge you, brothers, in view of God's mercy, to offer your bodies as living sacrifices, holy and pleasing to God—this is your spiritual act of worship.
46. John 14:21 Whoever has my commands and obeys them, he is the one who loves me. He who loves me will be loved by my Father, and I too will love him and show myself to him.
47. John 15:7 If you remain in me and my words remain in you, ask whatever you wish, and it will be given you.
48. Luke 9:23 Then he said to them all: "If anyone would come after me, he must deny himself and take up his cross daily and follow me.
49. 1 Peter 2:11 Dear friends, I urge you, as aliens and strangers in the world, to abstain from sinful desires, which war against your soul.
50. Mark 10:45 For even the Son of Man did not come to be served, but to serve, and to give his life as a ransom for many.
(All of the above verses are in the New International Version-NIV)